CLOUD BREAD RECIPE
Cloud Bread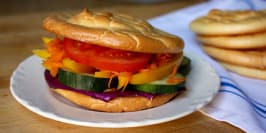 Cloud bread is light, fluffy, low carb, high protein (well, for bread) and is just 47 calories per slice!
Serves:
3 servings, 2 pieces each
Ingredients
Nonstick cooking spray
3 large eggs
1 dash cream of tartar
1 dash sea salt (or Himalayan salt) (to taste, optional)
⅓ cup reduced-fat (2%) plain Greek yogurt
Instructions
Heat oven to 300° F.
Lightly coat large baking sheet with spray. Set aside.
Separate egg yolks from egg whites. Place whites in a medium bowl. Place yolks in a separate medium bowl. Set aside.
Add cream of tartar to egg whites. Beat with a mixer on high until stiff peaks form, about 4 minutes. Set aside.
Add salt and yogurt to egg yolks. Beat with a mixer on medium until blended.
Gently fold ⅓ of egg white mixture into egg yolk mixture. Fold in the remaining egg white mixture until just incorporated, being careful not to overmix.
Using a spoon, transfer a scoop of egg mixture onto prepared baking sheet, gently spreading into a thick pancake shape about 3 inches in diameter. Repeat with remaining batter.
Bake for 25 to 30 minutes, or until golden brown and exterior is crispy to the touch. Immediately loosen cloud breads with a spatula; allow to cool on the baking sheet for 3 minutes, then transfer to a wire rack to cool completely.
Serve immediately, or store in an airtight container.
Nutritional Information (per serving):
Calories: 94
Total Fat: 6 g
Saturated Fat: 2 g
Cholesterol: 184 mg
Sodium: 167 mg
Carbohydrates: 2 g
Fiber: 0 g
Sugars: 2 g
Protein: 9 g
(½ Red)
------------------------------------------------------------------------------------------